ROBOTICS OPERATION SYSTEM
INTRODUCTION OF ROBOTICS OPERATION SYSTEM :
Let's start our journey of programming robots by using the Robot
Operating System (ROS). In order to get started with ROS, there are
some prerequisites to be satisfied. The prerequisites are to have a good
understanding of Linux, especially Ubuntu; a good understanding of Linux
shell commands; and Python and C++programming knowledge.
This book discusses all the prerequisite technologies required for
robot programming using ROS. This first chapter introduces the Ubuntu
operating system, installation, important shell commands, and the
important tools for programming robots. If you already work with Ubuntu,
you should still go through this chapter. It will refresh your existing
understanding of Ubuntu Linux.
What Is Ubuntu?
Ubuntu (www.ubuntu.com) is a popular Linux distribution based on
the Debian architecture (https://en.wikipedia.org/wiki/Debian).
It is freely available for use, and it is open source, so it can be modified
according to your application. Ubuntu comes with more than 1,000
pieces of software, including the Linux kernel, a GNOME/KDE desktop environment, and standard desktop applications (word processing, a web
browser, spreadsheets, a web server, programming languages, integrated
development environment (IDE), and several PC games).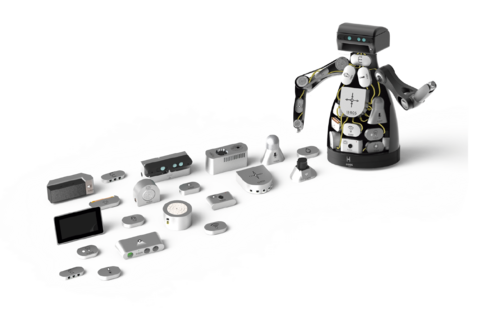 Ubuntu can run on desktops and servers. It supports architectures such as Intel x86, AMD-64, ARMv7, and ARMv8 (ARM64). Ubuntu is backed by Canonical Ltd. (www. canonical.com), a UK-based company.
Why Ubuntu for Robotics?
The software is the heart of any robot. A robot application can be run on
an operating system that provide functionalities to communicate with
robot actuators and sensors. A Linux-based operating system can provide
great flexibility to interact with low-level hardware and provide provision
to customize the operating system according to the robot application. The
advantages of Ubuntu in this context are its responsiveness, lightweight
nature, and high degree of security.
Beyond these factors, Ubuntu has great community support and there are frequent releases, which makes Ubuntu an updated operating system. Ubuntu also has long-term support (LTS) releases, which provides user support for up to five years. These factors have led the ROS developers to stick to Ubuntu, and it is the only operating that is fully supported by ROS.
The Ubuntu-ROS combination is an ideal choice for programming
robots.